What are you looking for?
I want a Surveyor
Construction Surveyor
A construction surveyor is the link between a designer and a contractor to ensure that a client's vision is accurately created in the real world. The process begins with a survey of the existing features of the area where a new structure is to be sited. Recording the topography (ground shape), existing buildings and infrastructure which is then forwarded to the designer. During the works the construction surveyor is responsible for staking out points to guide the contractor doing the work. The design can also be prepared for use in machine control systems. Checks will be carried out to ensure the design is being adhered to and surveys will be carried out to quantify the materials being used for claim purposes. When the work is complete an as built survey may be carried out to see how well the design has been matched.This is Pilbrow Surveying's area of expertise. If you are after a professional construction surveyor explore the "I want a Survey done" section to see what we can do for you.
Land Surveyor
In New Zealand the records of property location and related information (including boundary dimensions) is called the cadastre. Before a housing or commercial subdivision can be sold or developed, land surveyors produce a cadastral survey plan. Survey plans show a property's legal boundaries, areas and dimensions. The local authority certifies the plan to verify that sub divisional requirements have been met. Requirements include provision of services such as roading and drainage. The land surveyor lodges the survey plan with Land Information New Zealand for approval. LINZ sets the cadastral survey rules, standards and guidelines for New Zealand. LINZ deposits the survey plan as a legal document, cancels the existing title and issues a new title record for each new piece of land shown on the deposited plan. Pillbrow Surveying does not provide this service.
Quantity Surveyor
A quantity surveyor or estimator determines and controls the costs associated with a construction project. They identify and quantify the materials that will be need for the works as part of the tendering process. Then manage the purchasing and supply of the materials during the construction process. Pilbrow Surveying does not provide this service.
Building Surveyor
A building surveyor investigates structures to ensure they comply with zoning, fire and safety laws and that the structural integrity has not been compromised. Pilbrow Surveying does not provide this service.
I want a Survey done

Pilbrow Surveying offer the following services:
Site Plans
Using the UAVs we can provide site plans with up to date background images. You no longer need to rely on out of date pixilated google images.
Setting out for roading
We take data from consultants (plans or electronic) and calculate setout.
At whatever offset you want. (0.7mKF, 1mKF, 2m o/s Shoulder)
To whatever level you want. (Top of kerb, lip of channel, FL or 100 above FL)
Whatever marker is appropriate. (Stakes, steel pins, nails)
Setting out for earthworks
We find out where you want the marks and if appropriate give you a plan of our setout to make it easier to follow.
Setout in practical positions to make it easier for the earthmover.
Tops and toes of batters – batter boards if wanted.
Coloured tapes to make cuts / fills easier to see from machines.
Clearly labeled on clean stakes.
Setout to the appropriate accuracy.
Stakes painted with different colours for different things.
Setting out for drainage
We find out how you want it set out.
Manholes setout with a dumpy peg for the drainlayer to offset level from.
Cut / fill to lid level and invert levels clearly marked.
Catchpits setout with face of kerb lines to align them correctly.
Setting out for buildings & bridges
We find out where you want the setout and then provide a plan showing the dimensions used to prevent misunderstandings.
Marks put directly to profiles if wanted.
Checking carried out by second party if required for quality assurance.
Topographic surveys for volume calculations
Using our Unmanned Aerial Systems we can cover large areas quicker than traditional means.
We discuss the volume requirements for a particular site to ensure that all necessary surveys are taken and that delays to the works are minimized.
For an earthworks site this may include topos of original ground levels, after stripping, for monthly volume claims, for unsuitable material removed, topsoil stockpiles and final levels.
For a quarry this may be topos of rock faces to calculate reserves, of overburden to calculate stripping volumes or metal stockpiles to maintain control on inventory.
We understand the time constraints that contractors are under when it comes to claims so fast turnaround for volume calculations is a priority. With prior notice we will provide volumes that day.
We provide a plan showing the areas surveyed and the volumes calculated. Where necessary DTM's and cross-sections can be provided for consultants to confirm calculations.
We can survey water quality ponds and calculate their capacity and provide plans as part of sediment control.
Topographic surveys for design work and as built plans
We find out exactly what the survey is for to ensure all relevant items are picked up.
We find out how you want the data provided. In a format that best suits your needs, using your coding and your layer names.
Area measurements
We can measure up areas for claims and provide scale plans showing those areas.
We can measure up areas of seal, mulch, grassing, topsoil, anything.
Using geo-rectified images from the X100 we can extract areas with an overlain image of the site.
Machine control
Often contractors with machine control systems do not have the personnel or equipment for the accompanying survey needs.
We can install survey control circuits required for machine control systems.
We can take data provided by consultants and transform it for use by machine control systems this includes checking the data does not have any errors.
Data preparation for Site Engineers, Site surveyors, Foremen
We take data from consultants (plans or electronic) and prepare data to be used on site by staff through various platforms and equipment.
Preparation of Mapping Files for Devices.
Preparation of Text files Frames.
Data analysis of third party surveys and designs
We understand the logistics that go into planning and its impact on a project. We help with ongoing analysis to mitigate the effect of such variations throughout the project.
We take data from consultants or third party surveys (plans or electronic).
Prepare Annual Management Plan.
Forecasting volumes and materials.
Progress plans.
Monthly claims.
---
In July 2012 we purchased a Leica Viva GPS as part of our ongoing effort to maintain up to date equipment. We have configured the new system to still be able to use our preexisting GPS with it.
In September 2011 we acquired the Gatewing X100 aerial mapping system.
Our traditional equipment consists of two Leica robotic total stations, two Leica GPS units, two Leica digital levels and two laptops running LISCAD surveying software.
Each survey party is equipped with a GPS, a robotic total station, a digital level and laptop.
This range of gear allows us to select the most appropriate tool for the task at hand. Large open area topos are carried out using GPS. Quarry face surveys can be safely done using the reflectorless capability of the total stations. Roading is setout using the higher level accuracy of the TPS systems. Very high accuracy levelling runs are carried out using the digital levels. The LISCAD software enables calculations to be done without having to return to the office.
Our GPS systems have been setup to allow three rovers to run from one base. This enables us to carry out very fast topographical surveys or deal with three urgent matters on a large site at the same time.
The integration of GPS for setting out and TPS for levelling lets us get large amounts of construction control on the ground very quickly. When one portion of a job has been completed, the setout for the next can be in place and the next stage of the operation underway without costly delays.
Having two survey parties and this range of equipment let us coordinate work to ensure a swift response to your demands.
We currently have two GPS SR530 base stations (one of which can be converted to a rover) along with a SR530 backpack rover and a RX1250 Smart rover. The TPS gear is a TCRP1203 total station with RX1220T remote controller and a TCRA1103 total station with RCS1100 remote controller. Both total stations have reflectorless capability. The digital levels are a SPRINTER 100 & 100M.
Global Survey have installed the antenna and sensor for the fixed GNSS base at our office as part of their Spyder network. As from October 2009 the corrections from out antenna have been used as part of their Waikato Cell. With the purchase of the Smart Fix housing we are now able to use our Smart Rover as a stand alone unit which frees up the base unit to be used as a rover with the other GPS.
In 2014 a Leica TS15 with remote viewing and long range reflectorless capability was added to our total station stable.
At the start of 2015 we added an Altus Delta X8 multi-rotor UAV to our fleet to extend our low level mapping capability to smaller and difficult to access sites. You can see more about this system here. Later in 2015 we bought an Altus Deltat LRX multi-rotor, this is the longer range version of the X8. This was due to the law change at the end of August 2015 for the operation of RPAS. With the new requirement to get permission from all land owners and those who we wish to overfly it made the turning circle of the X100 complicated in densely populated areas.
Our most recent Leaica acquisition is a new GS15 GPS with the CS20 controller.
All our Leica equipment is supplied by Global Survey www.globalsurvey.co.nz.
---
Q1. I work in the construction industry - what makes you different from other surveying companies?
We understand that the surveying needs of the construction industry differ from those usually supplied by land surveyors. Earthworks and roading contractors require topos and setout to be carried out when they need it to avoid costly delays. Due to constantly changing circumstances construction survey can not be scheduled weeks in advance. We pride ourselves on being able to get to site and do the work quickly to minimize disruption to the works. Our knowledge of construction and mining allow us to liaise with contractors to ensure that setout is in the most practical position and that all necessary volume surveys are carried out. We know that not all contractors have setout in the same manner. We talk with site personnel to find out how they want things done and then before leaving site ensure they understand what we have done. Our robotic, GPS and aerial mapping equipment allow us to carry out swift topo surveys or to rapidly and accurately setout and level large amounts of roading & earthworks. Each survey gang operates a laptop in the field which enables changes to design to be handled without having to return to the office. We understand that contractors work to tight time constraints when it comes to claim time. We are able to get volumes processed and back to you the next day.
Q2. I am a consultant - why should we use you instead of another survey company?
Our knowledge of construction and mining allow us to liaise with consultants to ensure that surveys collect all relevant data. We know that not all designers do things in the same manner. We can provide data in any format or coding system that you require. Our wide range of equipment enable us to choose the most appropriate method of collecting the data that you require. Each survey gang operates a laptop in the field, enabling data to be checked to ensure all relevant information has been collected, preventing costly return trips. We understand that designers work to tight time constraints. We are able to respond quickly to requests and get surveys processed and back to you within days not weeks.
Q3. Why use you instead of having an in-house surveyor?
When you analyse the true cost of having an in-house surveyor you need to take into account the times that they must be paid for that they do not actually work. All the public holidays, annual leave, sick days and days when there is no current work for them all have to be paid for. You must also buy and maintain expensive survey equipment and software and then train them to use it. Any mistakes they make come out of your profit margin. By getting us in to do your survey work you are getting the advantage of our specialized knowledge and investment in new technology, the benefit of 20 years experience in mining and surveying, and the peace of mind that comes from knowing that we will correct any mistakes at our cost. As our specialty is construction surveying we are very efficient and have streamlined the processes to reduce any wasted time. If you already have an in-house surveyor, there will be times when they are over-loaded with work, we are available to act as staff overload.
Q4. Do you set out boundaries?
No, we specialize in construction surveying and leave the cadastral work to the land surveying fraternity. However we do have arrangements in place that enable us to work under the direction of a licensed surveyor when necessary.
Q5. I have a quarry to survey - why use you instead of someone else?
Our background in mining gives us a knowledge of the jargon and unique circumstances that working in quarries provides. Our long experience of working in quarries means we understand the hazards that may be found so you can have confidence that we will work safely without you having to oversee our every move on site. Our wide range of equipment and software enable us to carry out surveys of faces, stockpiles, overburden dump sites and silt ponds and calculate volumes or pass along the data to your existing mining team for further work.
Q6. What equipment will you use for my job?
We have a wide range of equipment each with its own unique abilities. Where very accurate levels are needed our digital levels are used. We use them where control mark heights need to be determined very accurately. Where the level accuracy has to be within 5mm and the position within a few millimetres then our total stations are used. We use the total stations for building grid setout, flat grade roading and drainage setout or topographical surveys in areas where the GPS can not be used. GPS accuracy is determined mainly by the number and arrangement of satellites being received by the antenna. The accuracy is 10 mm for position and 20 mm for height. The GPS is used for topographical surveys and earthworks setout. The Remorely Piloted Aerial Systems (RPAS) data is processed using photogrammetric principles. For a flying height of 100m the expected plan accuracy is 22mm and height accuracy is 44mm. We use the RPAS for quarry surveys and large scale site plans.
Q7. What hours do you work? Do you work on Public Holidays?
We understand that construction is not a 9 to 5 job so we usually leave the office at 7 am and return when the day's tasks are complete. Though if you have a task that requires us to be there at 5 am or midnight then we can accommodate your needs. Construction surveying is an arduous job and we try to restrict our Saturday work to computing in the office only, but if your job requires it we can be there for you. Specific sites sometimes have special circumstances that make it easier to do the work over Public Holidays such as blocks-of-line on the railways. It can be arranged that we are available at such times. It is our policy to not work on Sunday to ensure that our staff can maintain the degree of enthusiasm that makes for a happy and healthy workplace.
Q8. Which coordinate system and height datum should I use?
There are many different coordinate systems and height datums used throughout NZ. The final use of the data being captured will determine the most appropriate datum to use. Councils use the New Zealand Transverse Mercator projection for as built plans with the heights being in any of a number of local mean sea level based datums. Boundary information is in terms of Geodetic 2000 and local circuits e.g. Mt Eden. A building setout may be in terms of a grid based on a boundary line with no external reference.
Q9. Do you have insurance?
Yes, we carry Public Liability and Professional Indemnity Insurance. Our UAV fleet is covered by separate Aviation Liability Insurance.
---
Consultant
Andrew Harrop, MWH New Zealand Ltd
Ashleigh Frew, Tonkin & Taylor
Bob Tilsley, Tilsley Engineering
Craig Mulholland, CTM Architectural
David Brody, Peters Cheung
Jeremy Graham, Partner,D&M Graham&Sons Ltd
Ka-Ching, Cheung Peters&Cheung
Matt Doughney, Euroclass
Michael Havill, Truescape
Peter Dodd, DCC
Sean Dickinson, Dodd Civil
Vance Hodgson, HPC
Contractor
Alex Corbett, Corbett Contractors.jpg
Alison Dainty, Hurlstone Earthmoving Ltd.jpg
Hadley Blackbourn, Whitaker Civil Engineering
Hadley Blackbourn, Project Manager Whitaker Civil Engineering
Paul McKnight, Higgins
Paul Roberts, Base Civil
Rachel Cresswell, Waiau Pa Bulk Haulage
Richard Balsillie, Twomey Construction
Russell Green, Twomey Construction Ltd
Sam Courtier, Drury South Crossing
Sean Henry Area Manager, Fulton Hogan
Quarry
Alan Grigsby, Inframax
Andrew Walker
Andy Campbell Operations Manager, Holcim Bombay Quarry
Brad Pierce, Waikato Aggregates
Darcy Maddern Quarry Manager, McDonald's Lime
Jack Packer, Whatawhata Quarry
James Boyce, Holcim (New Zealand) Ltd
Keith Miller, Holcim
Keith Miller, Holcim UAV survey data review
Kerry Reilly, Quarry Manager Higgins Aggregates Meremere
Mark Baillie, HG Leach
Peter Sharpe, EnviroWaste
Steve Ellis, General Manager Stevenson Resources
Vaughan Chaffey Engineering Manager, Ravensdown Lime
Miscellaneous
Andrej Mocicka, LISTECH Pty Ltd
David Ison, Hobsonville Land Company
Duncan Hancock, Pokeno Lakes Development
Malcolm & Eileen Lumsden
Ray Bruce, Kiwi Broilers Ltd
Ruth Hunter
Tim Ryder, Ministry for Primary Industries
Vic O'Connor Managing Director, Geotechnics
John Payne Pipeline Services Manager, Vector Gas Ltd
Pete Edwards Director, Doug Stamp Water Services Ltd
---
History of Pilbrow Surveying Limited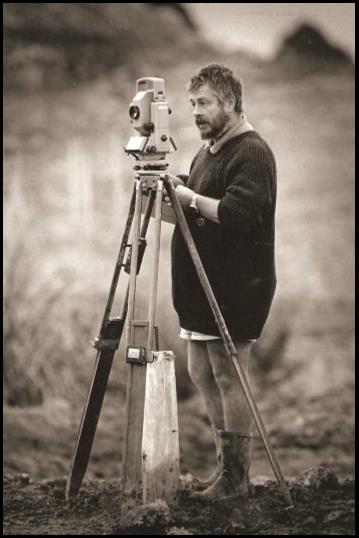 Pilbrow Surveying Limited was incorporated in September 1996 by Geoff and Sally Pilbrow.
Our current permanent staff consists of Rodney Pilbrow, BE (Mining) Managing Director, Kamil Puchalski, Diploma Technical Surveyor, Senior Surveyor, Ela Puchalska, Diploma Technical Surveyor, Surveyor (Photogrammetrist) and Esther Pilbrow, Chainman and Accounts.
Geoff Pilbrow had previously been surveyor for Green & McCahill involved in many jobs most notably the Mangatangi Dam project. After leaving Green & McCahill he and Sally formed a partnership supplying surveying services from their house in Bombay. In 1995 Rodney returned from South Africa where he had been working for Amcoal on opencast and underground coal mines. Originally going to work with CoalCorp it was decided that he would join with his parents and Pilbrow Surveying Limited was formed.
Over the years we have had others work with us. In 1999/2000 Rachael Gow worked for the company. In 2000 Tom Gosling worked for us before going off to form his own company, QES. In July 2000 Geoff had a heart attack. Following this he and Sally semi-retired to North Otago. Geoff continued to help out over the summer busy periods. In 2005 Seth Dale, who had worked for us a chainman, returned from working in the United Kingdom to work as a surveyor. In January 2006 Geoff Pilbrow died while attending a fire with the Duntroon Volunteer Fire Brigade. Also in 2006 Amanda Colwell joined us a chainman. She left to have her second child and returned briefly at the end of 2009. In mid 2006 Kylie Colwell joined as a surveyor. At the start of 2007 Kamil Puchalski joined us from Poland. From 2008 Esther Pilbrow has been with us a chainman. Kamil's wife Ela, also a surveyor, has now joined us full time from the start of 2013 after spending two years employed by Fulton Hogan at their Te Rapa project. Colin Pilbrow has been chaining over the summer holidays. The company was initially based at Geoff and Sally's Bombay house. In 2001 the company hired a building at the Bombay Quarry to use as an office. Then in 2003 Rodney built a new house in Te Kauwhata with an office for the company. Since then the company has been based in this North Waikato town.
Before the company was formed Geoff was using a TC1000. The survey gear was updated to a Wild TC1010 and a motorized TCM1100 when we started working as two separate gangs. In 1999 Pilbrow Surveying purchased the first Leica GPS500 system sold in New Zealand. Over the next few years we upgraded to a TCRA1103 plus total station with RCS1100 robotic controller. Then a TCRP1203 with a RX1220 robotic controller was purchased. A Smart Rover GPS1200 was bought able to work with our existing SR530 base. In 2008 a second SR530 base was bought enabling us to run two stand alone GPS systems or three rovers off the one base which makes short work of any topo. Global Survey have installed the gear for their GNSS reference station at our office to provide real time kinematic corrections over the internet and we are now part of their Waikato Cell. In September 2011 Pilbrow Surveying became the first company in New Zealand to purchase the Gatewing X100, a low level aerial mapping system. In March 2012 we upgraded our Smart Rover to be Glonass capable.

5 vans
---
---